Course Description:
Translational Research is a dynamic and multidisciplinary field that lies at the intersection of scientific discovery and real-world applications. This advanced university course is designed to provide students with a comprehensive understanding of the principles, methods, and challenges involved in translating laboratory findings into tangible solutions that impact human health, technology, and society.
Course Overview:
In this course, students will explore the intricate process of translating fundamental research concepts into practical applications that benefit individuals and communities. Through a combination of lectures, case studies, discussions, and hands-on projects, participants will gain insights into the key stages of translational research and develop the skills necessary to navigate the complex landscape of scientific innovation.
Course Objectives:
Foundations of Translational Research: Delve into the historical context and fundamental concepts that underpin translational research, including the bench-to-bedside continuum, T1-T4 stages, and the importance of interdisciplinary collaboration.
Biomedical Applications: Explore how translational research plays a pivotal role in advancing medical diagnostics, therapeutics, and interventions. Analyze successful examples of translating basic biological discoveries into clinical practice.
Technological Innovations: Investigate how translational research extends beyond healthcare to influence technology and engineering. Examine case studies of converting novel scientific ideas into marketable products and technological advancements.
Ethical and Regulatory Considerations: Understand the ethical dilemmas and regulatory frameworks associated with translating research findings. Examine the balance between innovation, safety, and societal impact.
Industry Engagement: Gain insights into the interactions between academia, industry, and government agencies in driving translational research forward. Learn how to navigate intellectual property, funding opportunities, and collaborations.
Challenges and Failures: Recognize the hurdles and potential pitfalls in the translational research process. Analyze unsuccessful translation attempts and extract lessons for future endeavors.
Entrepreneurship and Commercialization: Explore the entrepreneurial aspects of translational research, including startup formation, funding acquisition, and commercialization strategies for research-driven ventures.
Global Impact: Consider the global implications of translational research on public health, sustainable development, and addressing societal challenges on an international scale.
Assessment:
Assessment methods will include individual and group assignments, case study analyses, class presentations, and a final project. The final project will require students to devise a translational research plan for a selected scientific discovery, addressing technical, ethical, and practical aspects of the translation process.
Prerequisites:
This course is intended for advanced undergraduate and graduate students with a strong foundation in basic scientific principles. A background in biology, medicine, engineering, or related fields is recommended.
COURSE INFORMATION
Credit value: 3-6 (US standard) | 6-12 (ECTS standard)
Indicative duration (full-time): 4-10 weeks
Indicative duration (part-time): 5-12 weeks
Certificate: Yes
COURSE METHODOLOGY
This course is based on standard EUCLID methodology. Students may refer to the following resources:
Academic Guidelines (HQ version)
Academic Guidelines (most recent version even if unofficial)
Student Orientation Guidelines (most recent version even if unofficial)
Zotero instructions for EUCLID students
Grammarly instructions for EUCLID students
COURSE OBJECTIVES | LEARNING OUTCOMES
By the end of this course, students will:
Understand the key concepts and stages of translational research.
Evaluate the potential impact of research findings on practical applications.
Demonstrate the ability to navigate ethical, regulatory, and commercialization challenges.
Collaborate effectively in interdisciplinary teams to develop translational research strategies.
Apply critical thinking skills to analyze successful and unsuccessful translational efforts.
Embark on a journey to bridge the gap between scientific discovery and tangible solutions by enrolling in this Translational Research course. Gain the knowledge and skills to transform groundbreaking ideas into transformative innovations that shape the future of healthcare, technology, and society.
REQUIRED TEXTS AND MATERIAL
Course material is provided in the form of embedded videos, audio MP3s, and/or downloadable PDFs.
COURSE INSTRUCTOR | ASSOCIATED FACULTY
Please see faculty profile(s) for this course at https://www.euclid.int/facultyprofiles.asp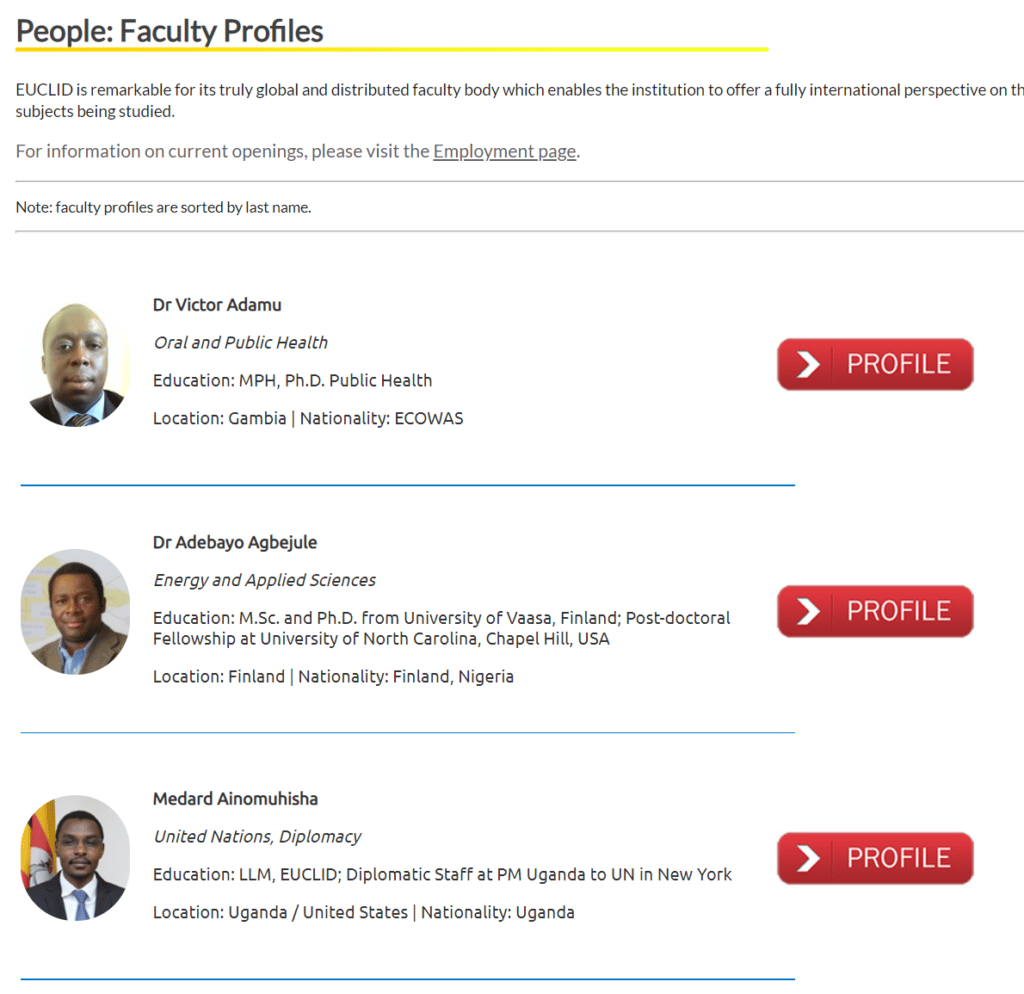 COURSE SYLLABUS | ACCESS TO 7 PERIODS