COURSE DESCRIPTION
The course "Biomass Energy" offers a comprehensive exploration of the principles, technologies, environmental impacts, and socio-economic aspects related to the utilization of biomass as a renewable energy source. This course is designed for students interested in pursuing careers in energy, environmental science, sustainable development, policy-making, or related fields. It provides a thorough understanding of the potential, challenges, and applications of biomass energy in the context of transitioning to a low-carbon economy.
The course begins by establishing a foundation in the fundamentals of biomass energy. Students will explore the sources of biomass, including agricultural residues, forestry residues, energy crops, and organic waste materials. They will learn about the conversion processes, such as combustion, gasification, pyrolysis, and anaerobic digestion, that transform biomass into heat, electricity, biofuels, and other forms of energy. The principles of thermochemical and biochemical conversion pathways will be covered, along with the associated technologies and their efficiencies.
Throughout the course, students will delve into the technical aspects of biomass energy systems. They will study biomass supply chains, including harvesting, preprocessing, transportation, and storage. The course will cover biomass feedstock characterization, energy content determination, and considerations for system design and optimization. Students will explore the integration of biomass energy with conventional energy systems, grid integration, and the potential for combined heat and power (CHP) applications.
In addition to the technical aspects, the course will address the environmental and sustainability dimensions of biomass energy. Students will examine the carbon neutrality of biomass energy systems, considering factors such as feedstock production, land use change, and emissions. They will explore strategies for mitigating environmental impacts, such as air pollution control, ash management, and sustainable biomass sourcing. The course will also discuss the ecological implications of biomass utilization, including biodiversity conservation and land management considerations.
Furthermore, the course will address the socio-economic aspects and policy frameworks related to biomass energy. Students will explore the economic viability and market potential of biomass energy, including financial incentives, feed-in tariffs, and carbon pricing mechanisms. They will analyze case studies of successful biomass energy projects and evaluate the factors contributing to their success. The course will also cover policy frameworks, regulations, and international cooperation initiatives aimed at promoting biomass energy deployment and addressing sustainability challenges.
Through lectures, laboratory sessions, case studies, and discussions, students will develop a multidimensional understanding of biomass energy. They will engage in practical exercises, simulations, and project work to enhance their technical proficiency and critical thinking skills. Considerations for social equity, community engagement, and stakeholder involvement will be integrated throughout the course, fostering a holistic approach to biomass energy development.
COURSE INFORMATION
Credit value: 3-6 (US standard) | 6-12 (ECTS standard)
Indicative duration (full-time): 4-10 weeks
Indicative duration (part-time): 5-12 weeks
Certificate: Yes
COURSE METHODOLOGY
This course is based on standard EUCLID methodology. Students may refer to the following resources:
Academic Guidelines (HQ version)
Academic Guidelines (most recent version even if unofficial)
Student Orientation Guidelines (most recent version even if unofficial)
Zotero instructions for EUCLID students
Grammarly instructions for EUCLID students
COURSE OBJECTIVES | LEARNING OUTCOMES
By the end of the course, students will possess a comprehensive knowledge of biomass energy, enabling them to contribute to the energy sector, policy-making, research, and development in the field. They will be equipped with the skills to evaluate the sustainability and viability of biomass energy systems, identify appropriate technologies and practices, and contribute to the development of environmentally sound and socially responsible biomass energy projects.
REQUIRED TEXTS AND MATERIAL
Course material is provided in the form of embedded videos, audio MP3s, and/or downloadable PDFs.
COURSE INSTRUCTOR | ASSOCIATED FACULTY
Please see faculty profile(s) for this course at https://www.euclid.int/facultyprofiles.asp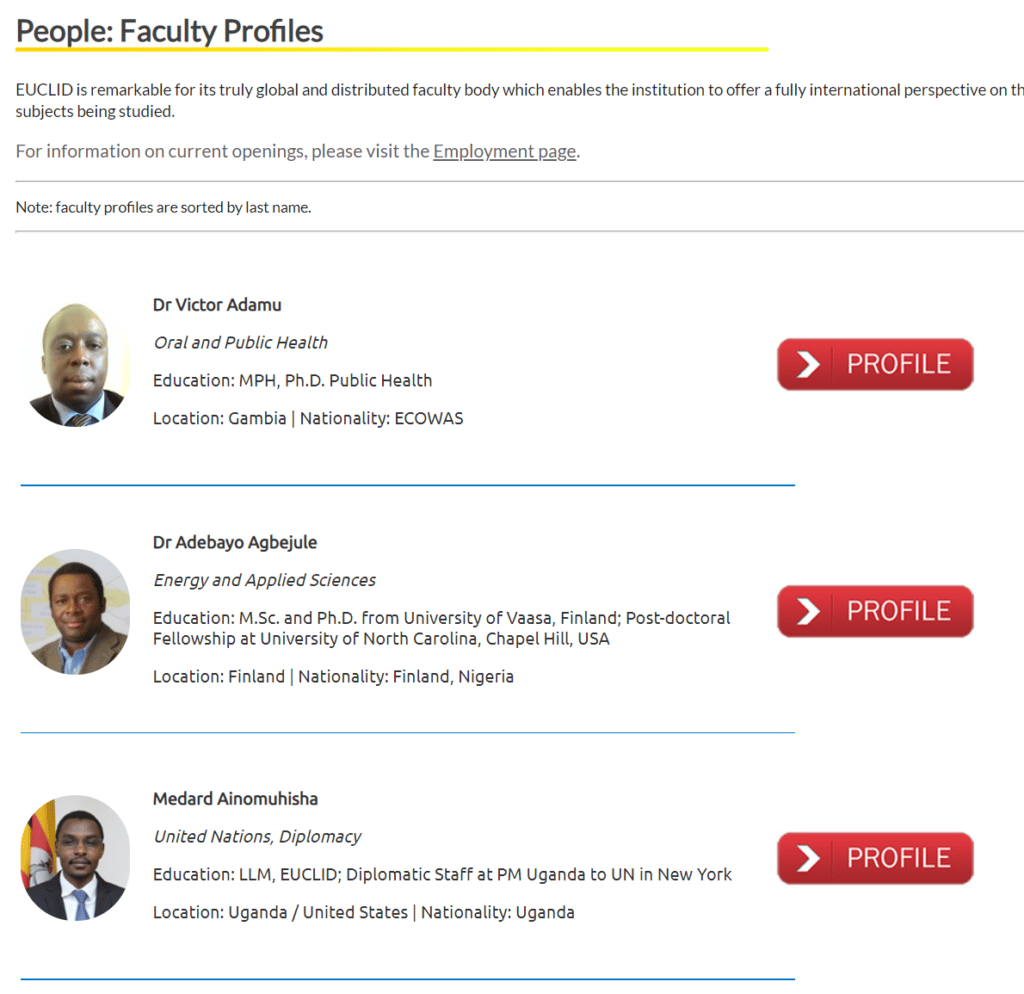 COURSE SYLLABUS | ACCESS TO 7 PERIODS