This course covers the theory and practice of Monitoring and Evaluation Systems. It is designed to equip students with the requisite knowledge and skills to develop, manage, and utilize monitoring and evaluation systems effectively within various organizational contexts. These contexts span but are not limited to non-profit organizations, governmental agencies, international development entities, and corporate sectors.
The course delves into the core principles and methodologies of monitoring and evaluation (M&E), with a focus on the role these systems play in enhancing accountability, transparency, and informed decision-making. Students will be introduced to the key concepts of M&E, including but not limited to logic models, performance indicators, data collection methods, data quality assessment, data analysis and interpretation, reporting, and feedback mechanisms.
Through a combination of lectures, practical case studies, group exercises, and hands-on projects, students will gain practical experience in designing and implementing M&E systems, developing relevant indicators, and analyzing and interpreting data to measure performance and inform strategic decisions. Emphasis will also be placed on the ethical considerations in M&E and the importance of stakeholder involvement in the M&E process.
Credit value: 3-6 (US standard) | 6-12 (ECTS standard)
Indicative duration (full-time): 4-10 weeks
Indicative duration (part-time): 5-12 weeks
Certificate: Yes
COURSE METHODOLOGY
This course is based on standard EUCLID methodology. Students may refer to the following resources:
Academic Guidelines (HQ version)
Academic Guidelines (most recent version even if unofficial)
Student Orientation Guidelines (most recent version even if unofficial)
Zotero instructions for EUCLID students
Grammarly instructions for EUCLID students
COURSE OBJECTIVES | LEARNING OUTCOMES
At the end of this course, the student will be able to:
Understand and explain the fundamental principles and methodologies of monitoring and evaluation systems.
Design and implement a robust M&E system tailored to the specific needs of an organization or project.
Develop and use effective performance indicators.
Conduct data collection, analysis, and interpretation for M&E.
Prepare comprehensive M&E reports and provide constructive feedback based on findings.
Understand and apply ethical considerations in the design and implementation of M&E systems.
Involve stakeholders effectively in the M&E process.
REQUIRED TEXTS AND MATERIAL
Course material is provided in the form of embedded videos, audio MP3s, and/or downloadable PDFs.
COURSE INSTRUCTOR | ASSOCIATED FACULTY
Please see faculty profile(s) for this course at https://www.euclid.int/facultyprofiles.asp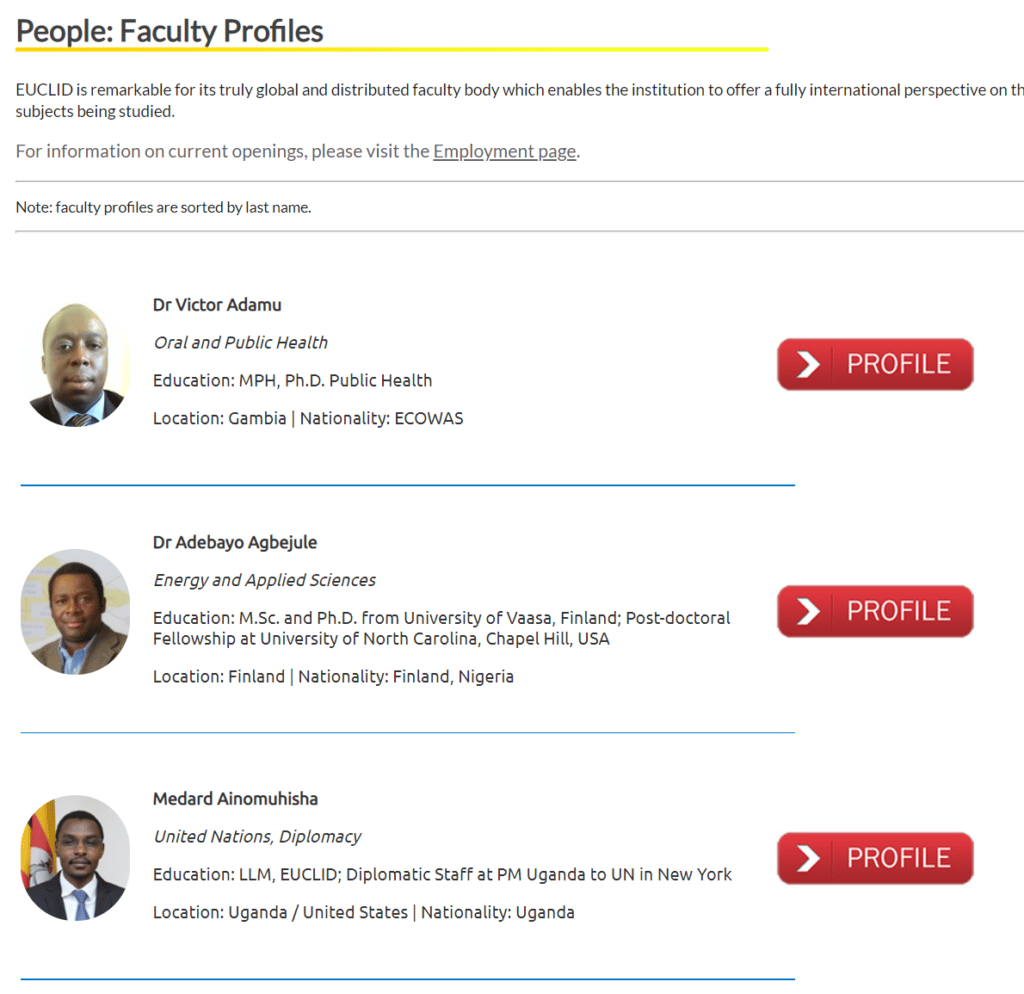 COURSE SYLLABUS | ACCESS TO 7 PERIODS