Course Description
The course "Health Systems Strengthening" provides an in-depth exploration of the principles, strategies, and practices necessary to improve the effectiveness, efficiency, and equity of healthcare systems. This comprehensive course is designed for students pursuing careers in public health, healthcare management, policy-making, or related fields, with a strong emphasis on the analysis, evaluation, and enhancement of health systems.
The course begins by examining the foundations of health systems, including their components, functions, and key stakeholders. Students will develop a holistic understanding of health systems' intricacies, considering the interplay between healthcare service delivery, health workforce, information management, financing mechanisms, and governance. Through case studies and real-world examples, students will analyze the strengths and weaknesses of existing health systems across different countries and regions.
In subsequent modules, students will delve into the core concepts and strategies of health systems strengthening. This includes an exploration of evidence-based approaches to policy development, health financing models, health workforce planning, health information systems, and quality improvement initiatives. Students will critically evaluate various interventions aimed at enhancing health systems, such as strengthening primary healthcare, promoting universal health coverage, and addressing health inequities.
Moreover, the course will cover contemporary challenges and emerging trends in health systems strengthening. Students will examine the impact of globalization, technological advancements, and demographic shifts on health systems, and explore innovative solutions to address these evolving dynamics. The course will also address issues related to health system resilience, disaster preparedness, and response.
Additionally, ethical considerations and social determinants of health will be integrated into the curriculum, fostering a comprehensive understanding of health systems strengthening from a multidisciplinary perspective.
Credit value: 3-6 (US standard) | 6-12 (ECTS standard)
Indicative duration (full-time): 4-10 weeks
Indicative duration (part-time): 5-12 weeks
Certificate: Yes
COURSE METHODOLOGY
This course is based on standard EUCLID methodology. Students may refer to the following resources:
Academic Guidelines (HQ version)
Academic Guidelines (most recent version even if unofficial)
Student Orientation Guidelines (most recent version even if unofficial)
Zotero instructions for EUCLID students
Grammarly instructions for EUCLID students
COURSE OBJECTIVES | LEARNING OUTCOMES
By the end of the course, students will possess a solid foundation in health systems strengthening, enabling them to contribute to the design, implementation, and evaluation of effective health policies and programs. They will be equipped with the knowledge and skills necessary to navigate the complexities of health systems, advocate for health equity, and drive positive change in healthcare delivery at local, national, and global levels.
REQUIRED TEXTS AND MATERIAL
Course material is provided in the form of embedded videos, audio MP3s, and/or downloadable PDFs.
COURSE INSTRUCTOR | ASSOCIATED FACULTY
Please see faculty profile(s) for this course at https://www.euclid.int/facultyprofiles.asp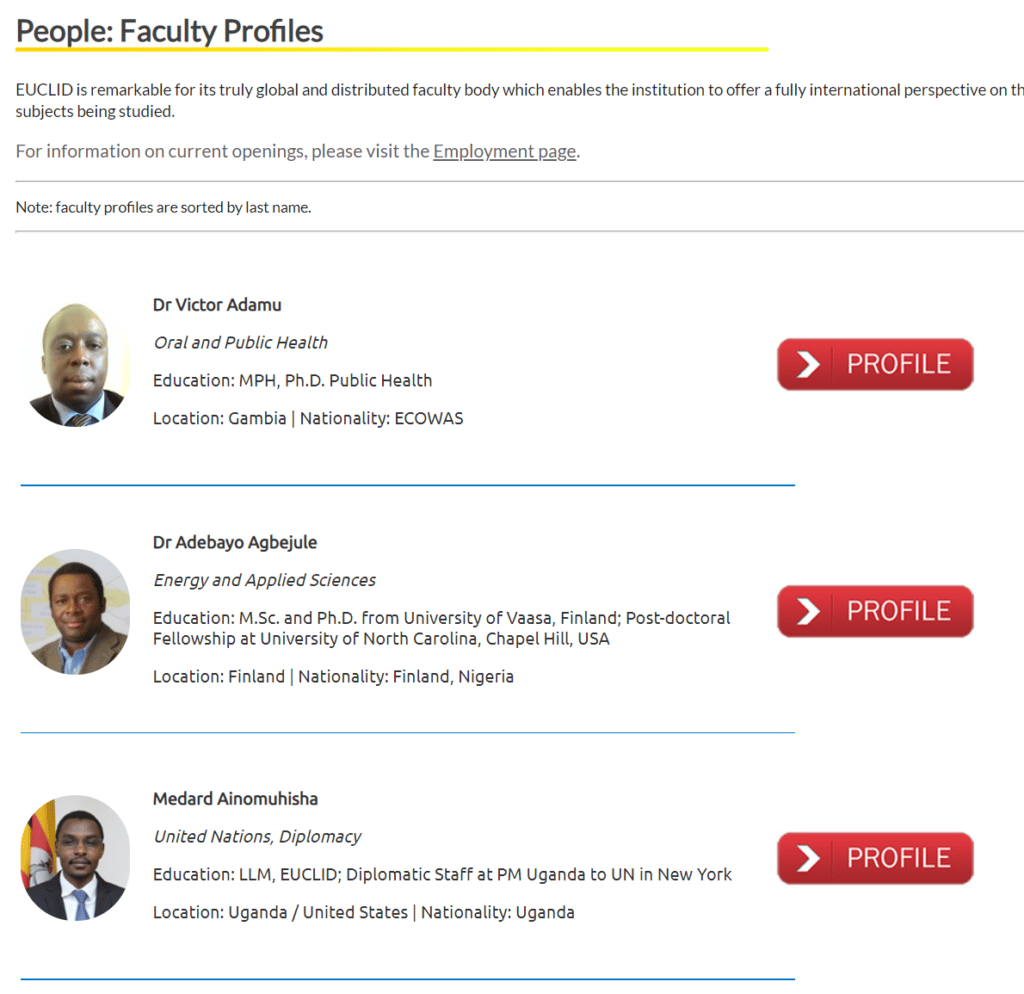 COURSE SYLLABUS | ACCESS TO 7 PERIODS