This course covers a number of advanced concepts in international politics and follows such courses as DIP-401 and DIP-413. The main textbook has been helping students understand the dynamics of international relations for fifty years. Readings by leading scholars on essential topics illustrate fundamental debates and differing points of view for a comprehensive and engaging overview of the discipline while introducing readers to the major forces shaping the world today. The fourteenth edition continues the book's cornerstone approach of combining foundational theoretical works with recent perspectives on current problems, including a wealth of new material spread across each of the book's four parts. The foundational material is organized to highlight the concept of anarchy in international relations and how matters of security, power, military force, international political economy, and strategic interactions influence patterns of cooperation and conflict. In addition to a focus on basic security and strategic problems, the politics of international commerce, and challenges facing the global economy, this edition also covers critical contemporary issues, including human rights, civil wars, intervention and peacekeeping, migration, cyber conflict, great power competition, climate change, energy transition, nuclear weapons, pandemic diplomacy, and changes in the political shape of the system writ large.
Credit value: 3-6 (US standard) | 6-12 (ECTS standard)
Indicative duration (full-time): 4-10 weeks
Indicative duration (part-time): 5-12 weeks
Certificate: Yes
COURSE METHODOLOGY
This course is based on standard EUCLID methodology. Students may refer to the following resources:
Academic Guidelines (HQ version)
Academic Guidelines (most recent version even if unofficial)
Student Orientation Guidelines (most recent version even if unofficial)
Zotero instructions for EUCLID students
Grammarly instructions for EUCLID students
COURSE OBJECTIVES | LEARNING OUTCOMES
At the end of this course, the student will be able to:
discuss 5 concepts selected from the material
discuss north-south issues
discuss the concept of conflict of civilization.
REQUIRED TEXTS AND MATERIAL
Course material is provided in the form of embedded videos, audio MP3s, and/or downloadable PDFs.
COURSE INSTRUCTOR | ASSOCIATED FACULTY
Please see faculty profile(s) for this course at https://www.euclid.int/facultyprofiles.asp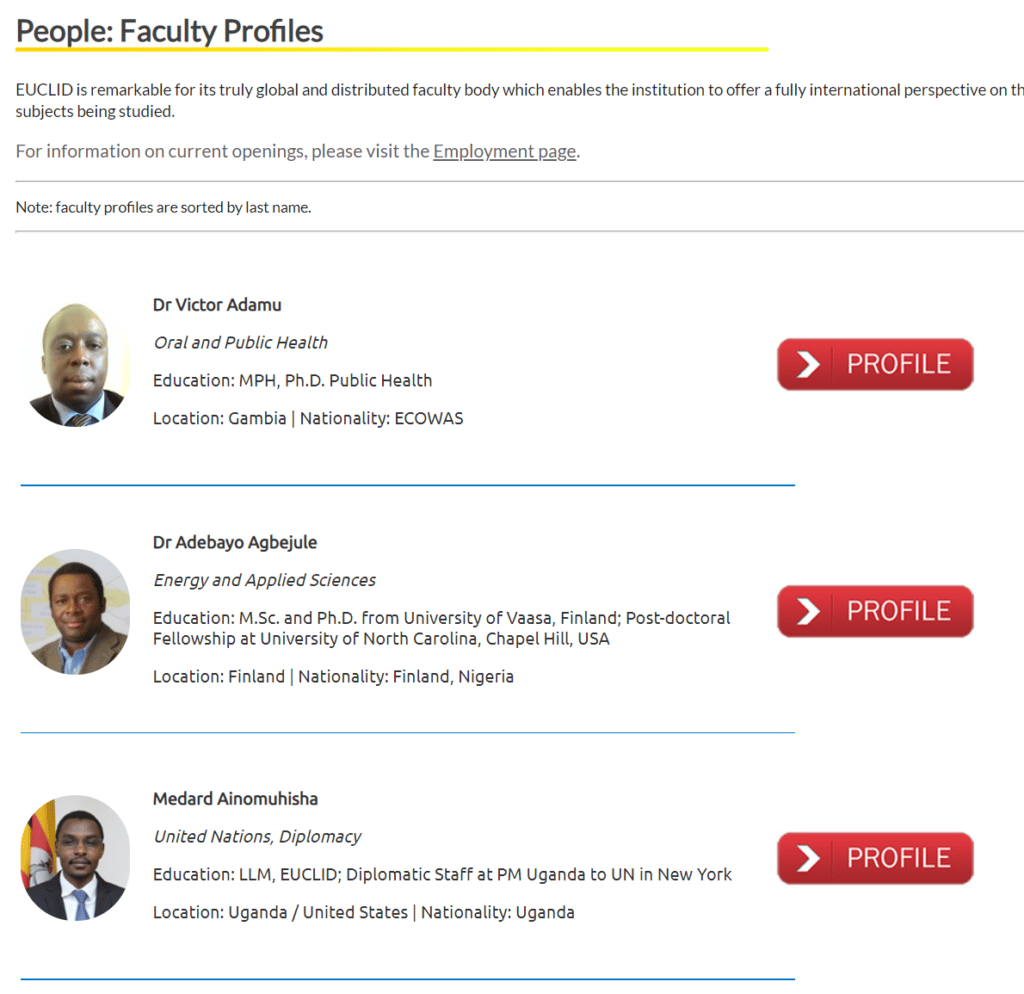 COURSE SYLLABUS | ACCESS TO 7 PERIODS