COURSE DESCRIPTION
EUCLID's "Academic Medicine" course offers a comprehensive exploration of the dynamic interface between clinical practice, research, and education in the field of medicine. This advanced-level course is designed for medical students, residents, fellows, and practicing physicians who aspire to engage in the highest standards of medical care, research, and academic leadership.
Throughout this course, participants will delve into the multifaceted realm of academic medicine, gaining a profound understanding of the intricate interplay between clinical expertise, evidence-based research, and effective teaching strategies. Students will learn to harmonize these elements to advance patient care, contribute to medical knowledge, and shape the future of healthcare.
Key Course Components:
Foundations of Academic Medicine:
Explore the historical evolution and significance of academic medicine in modern healthcare systems.
Analyze the role of academic medical centers in advancing patient care, medical education, and scientific discovery.
Understand the ethical considerations inherent in conducting research while providing patient care.
Evidence-Based Practice:
Develop skills in critically appraising medical literature and integrating research findings into clinical decision-making.
Explore the principles of clinical trials, study design, and statistical analysis in evidence generation.
Investigate strategies for implementing evidence-based medicine in diverse clinical scenarios.
Medical Education and Pedagogy:
Examine effective teaching methodologies for medical students, residents, and colleagues.
Engage in discussions about curriculum development, assessment, and fostering a culture of lifelong learning.
Participate in simulated teaching sessions to refine instructional techniques.
Translational Research:
Navigate the continuum from bench to bedside, understanding how basic research translates into clinical applications.
Study the challenges and opportunities in translational research, including collaboration between laboratory scientists and clinicians.
Discuss innovative approaches to bridge the gap between research discoveries and patient care improvements.
Leadership and Professional Development:
Gain insights into academic career pathways, from clinician-educator to physician-scientist roles.
Learn effective strategies for building interdisciplinary collaborations and leading healthcare teams.
Explore the role of academic physicians in shaping healthcare policies and advocating for evidence-based practices.
Ethics and Innovation in Academic Medicine:
Examine ethical considerations related to research integrity, patient consent, and industry partnerships.
Discuss emerging technologies and innovations shaping the future of academic medicine.
Analyze the impact of socioeconomic factors on healthcare delivery and research.
COURSE INFORMATION
Credit value: 3-6 (US standard) | 6-12 (ECTS standard)
Indicative duration (full-time): 4-10 weeks
Indicative duration (part-time): 5-12 weeks
Certificate: Yes
COURSE METHODOLOGY
This course is based on standard EUCLID methodology. Students may refer to the following resources:
Academic Guidelines (HQ version)
Academic Guidelines (most recent version even if unofficial)
Student Orientation Guidelines (most recent version even if unofficial)
Zotero instructions for EUCLID students
Grammarly instructions for EUCLID students
COURSE OBJECTIVES | LEARNING OUTCOMES
At the end of this course, the student will be able to:
By the end of this course, participants will have acquired a well-rounded skill set encompassing clinical excellence, evidence-based practice, effective teaching methodologies, and leadership acumen. Graduates will be poised to contribute meaningfully to the advancement of medical knowledge, patient care, and educational excellence in the ever-evolving landscape of academic medicine.
REQUIRED TEXTS AND MATERIAL
Course material is provided in the form of embedded videos, audio MP3s, and/or downloadable PDFs.
COURSE INSTRUCTOR | ASSOCIATED FACULTY
Please see faculty profile(s) for this course at https://www.euclid.int/facultyprofiles.asp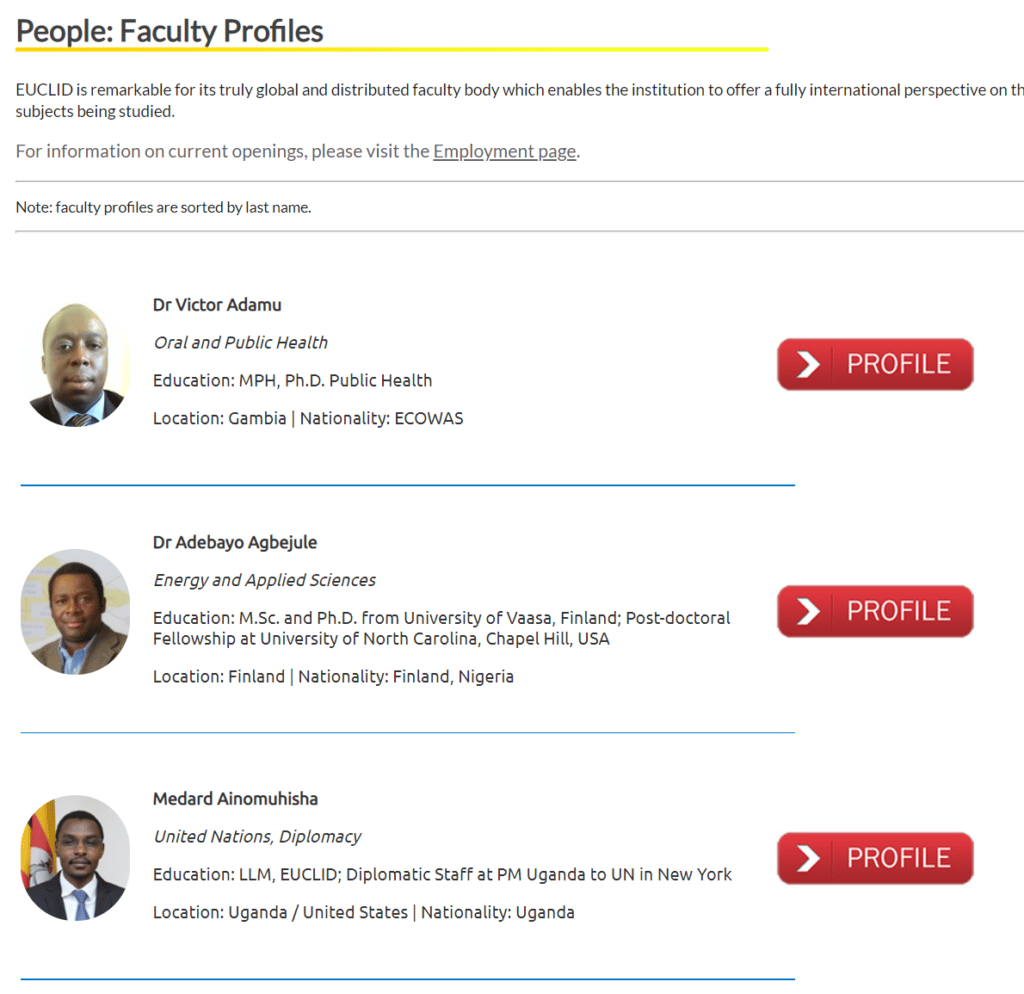 COURSE SYLLABUS | ACCESS TO 7 PERIODS